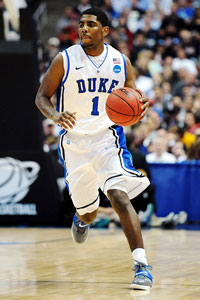 In one sense, the Celtics won this game because their NBA-leading defense put the Mavs in a vise grip for nearly 13 minutes, holding Dallas to 5-for-20 shooting with five turnovers from the 7:47 mark of the fourth quarter on. In another, though, they won it because their point guard was freaking unstoppable at exactly the time they needed him to be.
Irving made all four of his field goals in the extra session, outscoring the Mavericks by himself in OT, 10-6. He made a pair of freebies with 18 seconds left to finish off his most explosive and efficient offensive game as a Celtic — a season-high 47 points on scorching 16-for-22 shooting, a 5-for-7 mark from downtown, and 10-for-11 at the free-throw line, along with six assists, three rebounds, a steal and just three turnovers in 39 minutes of downright remarkable work.
Irving made his first 10 shots on Monday; he has now scored 77 points on 44 shots over the past two games. I think he's gotten used to the mask, you guys.
He's the first Celtic to score 45 or more on 70-plus percent or better since Larry Bird did it 28 years ago. According to Basketball-Refeference.com's database, he's the seventh player in the last 54 years to produce multiple games of 45 or more points on 22 or fewer shot attempts, and man, is it a fun list: Hall of Famer Adrian Dantley, peak Gilbert Arenas, Manu Ginobili and Dwyane Wade, never-forget-how-good-a-scorer-he-was Kevin Martin, and present-day James Harden (who picked up his fourth such game just last week, hot on the heels of Joel Embiid having his first).
After struggling with the consistency on his shot earlier in the season, Irving has now put together back-to-back scorching performances that have lifted his season numbers (22.5 points on 47/38/89 shooting, 5.3 assists, 3.2 rebounds, 1.6 steals per game) back in line with his career averages, despite playing about 2.5 fewer minutes per game than his career mark (and 3.5 fewer than he saw last year in Cleveland). He kept his frankly unbelievable numbers in tight situations going, too:
Irving has scored 65 points in 38 minutes of "clutch" play — when the game's within five points, one way or the other, in the final five minutes or OT — this season, far and away the best clutch scoring rate of any player in the league, according to NBA.com's stats. He's an obscene 24-for-39 from the field (61.5 percent) in those close-and-late situations, with the bulk of his damage coming inside the paint and directly at the front of the rim, thanks to his ability to sidestep and teleport through defenders tasked with hemming him up at the perimeter. He has drawn 11 fouls leading to 16 free throws (making 13), and has dished 10 assists without a turnover in "clutch" time.
It's a little too early to start updating those "King in the Fourth" Photoshops, but it's fair to say the Celtics haven't yet experienced a late-game drop-off with Irving at the controls. On the contrary: no team's got a better record in games featuring "clutch" minutes than Boston's 11-2 mark, and while last year's Celtics outscored opponents by a very strong 14.9 points per 100 "clutch" possessions, this year's model has nearly doubled that net rating so far.
While Irving's overall efficiency hadn't quite been up to snuff before these past two games, his improved effort level on the defensive end and his killer performance in the clutch have played a big role in the Celtics getting off to such a dynamite start to the season. Then you see performances like the one he turned in on Monday, where it doesn't seem like there's a single thing a defender can do to stop him, and you're reminded why Danny Ainge decided to take the gigantic risk of giving two starters and the Brooklyn Nets' unprotected first-round draft pick to the Cleveland Cavaliers so he'd have the chance to get Irving in kelly green.
The early returns on Ainge being right about that deal have been so impressive that it's got the Celtics president of basketball operations wondering if he might be wrong about something else:
--
Yahoo
A long time ago, in a place far, far away, the Boston Celtics went on a road trip to the West Coast. I believe it was the second half of the 1984-85 season. It was a longish trip, five or six games. And all anyone could talk about was how just about every game finished:
On a Larry Bird buzzer beater.
My brother the Lakers fan called to finally acknowledge what the rest of the world already knew. Larry Bird was the greatest player on the planet. The way Kyrie is playing this year, I feel another call coming from my brother.
: )